🔒 Booking your escape
Choose one of our virtual escape rooms
Need help choosing? read more
Reserve your escape time
Once you have determined a date, a time, and the number of players: book your virtual escape room on our website. It's possible to add extra players after your booking and readjust your date and time if needed.
With the triple assistance of our intro video, game instructions, and built-in hint system, the escape games can be played without a host to guide you. However, if you would like to hire a live host for your event, please contact us (we have a partial host and full event host option).
🔒 After your booking
Receive your official virtual escape links
You will receive an email with instructions and 2 personalized links: a master link and a participant link.
You can send these links to your players before the event if you'd like to build the hype - they will be able to read the scenario and instructions but won't be able to start the game until your chosen escape time.
🔒 Start the escape
Prepare your players
Round up your players and make sure everyone has their official virtual escape links.
Split your players into teams, and nominate a team captain per group. Your team captain(s) will use the master link and share their screen with their teammates. This link displays the current elapsed escape time and has extra hints available in case the team gets stuck.
Teammates can use the participant link to help solve puzzles. The participant link can be opened in a browser alongside the video conferencing call, or on another device like a phone.
Play!
Teams come together into breakout rooms; the captain clicks the "start" button to begin the escape!
🔒 Playing the escape
Solve the puzzles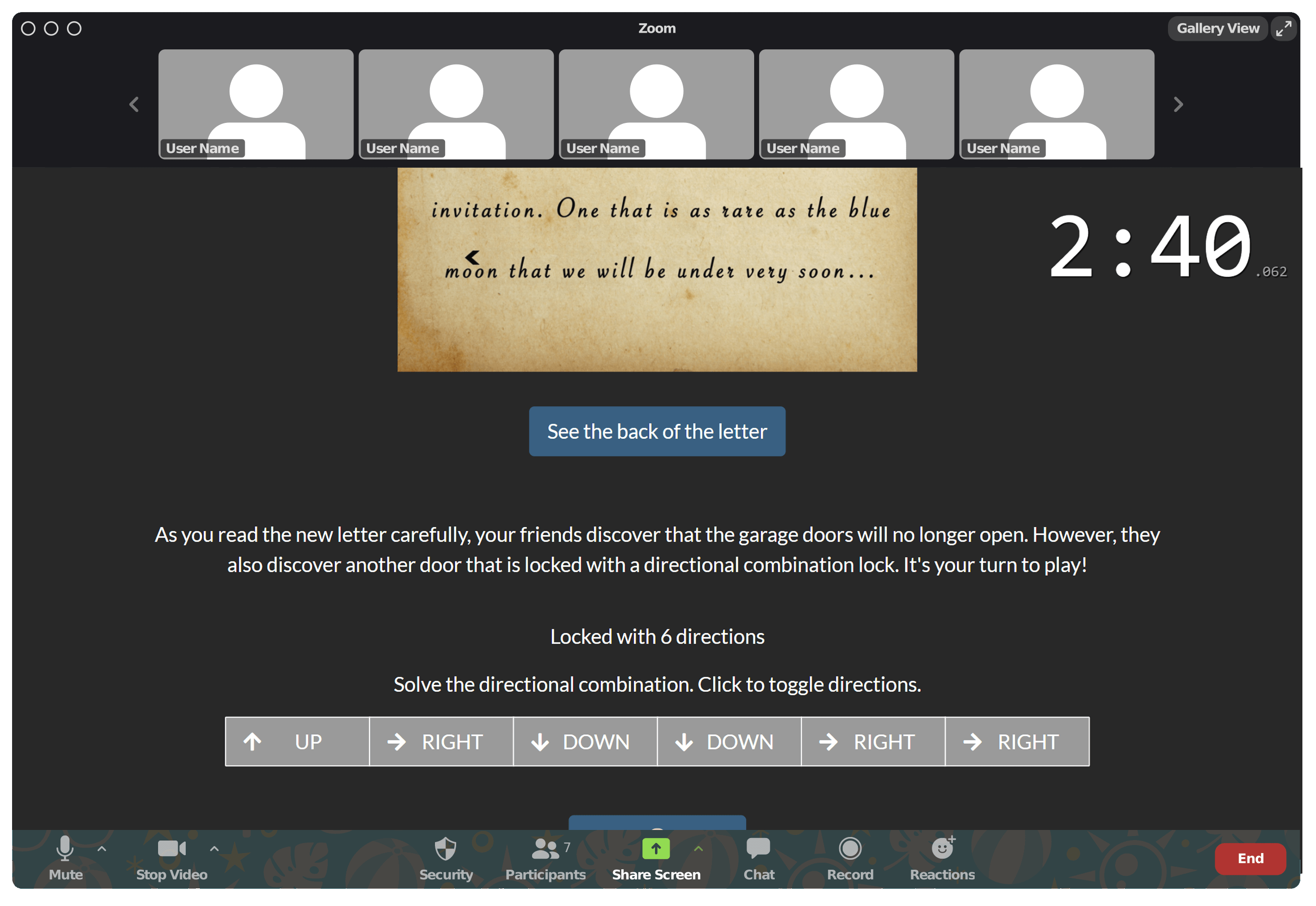 The game is played directly in your Web Browser, there is nothing to download.
Participants embark on an adventure much like our in-person escape rooms. Guided by the story line, players interact with visual elements of the web pages and try to solve puzzles one step at a time until they reach the final goal.
Find the passwords
Each puzzle is locked with a password – a combination that could include numbers, letters, directions, or symbols.
After the final password is entered correctly, the timer stops and the escape is complete!
🔒 After the escape
Reveal your private leaderboards
If you are playing with multiple teams, find out each team's final escape time. Players enjoy discussing which puzzles they solved quickly, and which ones were more challenging.
Wrap-up
Plan 10-15 minutes to get everyone back in the main meeting room, announce the winners and wrap-up the event. Escape rooms are solved faster when played as a team, emphasizing the value of teamwork.